Obama and 'The Great I Am'
by Jeff Jacoby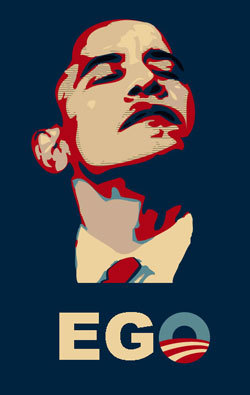 PRESIDENT OBAMA was too busy to attend the celebrations in Germany this week marking the fall of the Berlin Wall 20 years ago. But he did appear by video, delivering a few brief and bloodless remarks about how the wall was "a painful barrier between family and friends" that symbolized "a system that denied people the freedoms that should be the right of every human being." He referred to "tyranny," but never identified the tyrants -- he never uttered the words "Soviet Union" or "communism," for example. He said nothing about the men and women who died trying to cross the wall. Nor did he mention Harry Truman or Ronald Reagan -- or even Mikhail Gorbachev.
He did, however, talk about Barack Obama. "Few would have foreseen," declared the president, "that a united Germany would be led by a woman from [the former East German state of] Brandenburg or that their American ally would be led by a man of African descent. But human destiny is what human beings make of it."
As presidential rhetoric goes, this was hardly a match for "Ich bin ein Berliner," still less another "Mr. Gorbachev, tear down this wall." But as a specimen of presidential narcissism, it is hard to beat. Obama couldn't be troubled to visit Berlin to commemorate a momentous milestone in the history of human liberty. But he was glad to explain to those who were there why reflections on that milestone should inspire appreciation for the self-made "destiny" of his own rise to power.
Was there ever a president as deeply enamored of himself as Barack Obama? The first President Bush, taught from childhood to shun what his mother called "The Great I Am," regularly instructed his speechwriters not to include too many "I's" in his prepared remarks. Ronald Reagan maintained that there was no limit to what someone could achieve if he didn't mind who got the credit. George Washington, one of the most accomplished men of his day, said with characteristic modesty on becoming president that he was "peculiarly conscious of his own deficiencies."
Obama, on the other hand, positively revels in The Great I Am. "I think that I'm a better speechwriter than my speechwriters," he told campaign aides when he was running for the White House. "I know more about policies on any particular issue than my policy directors. And I'll tell you right now that . . . I'm a better political director than my political director."
At the start of his presidency, Obama seemed to content himself with the royal "we" -- "We will build the roads and bridges . . . We will restore science to its rightful place . . . We will harness the sun and winds," he declaimed at his inauguration.
But as the literary theorist Stanley Fish points out, "By the time of the address to the Congress on Feb. 24, the royal we [had] flowered into the naked 'I': 'As soon as I took office, I asked this Congress.' 'I called for action.' 'I pushed for quick action.' 'I have told each of my cabinet.' 'I've appointed a proven and aggressive inspector general.' 'I refuse to let that happen.' 'I will not spend a single penny.' 'I reject the view that says our problems will simply take care of themselves.' 'I held a fiscal summit where I pledged to cut the deficit in half.'" In his speech on the federal takeover of GM, Obama likewise found it necessary to use the first-person singular pronoun 34 times. ("Congress" he mentioned just once.)
At this rate, it won't be long before the president's ego is so inflated that it will require a ZIP code of its own. Then again, how modest would any of us be if we were as magnificent as Obama knows himself to be? "I am well aware," he told the UN General Assembly of the expectations that accompany my presidency around the world." in September, "
In 1860, writes Doris Kearns Goodwin in her celebrated biography Team of Rivals, an author wishing to dedicate his forthcoming work to Abraham Lincoln received this answer: "I give the leave, begging only that the inscription may be in modest terms, not representing me as a man of great learning, or a very extraordinary one in any respect."
Obama has often claimed Lincoln as a role model. Apparently it only goes so far.
SOURCE
*************************
Leftist fauxtography goes back a long way
According to Robert Hughes, author of "The Shock of the New" (1980), during World War I's nation-shattering and culture-shredding carnage, no photograph of a dead soldier appeared in a German, French or British newspaper. But the Sept. 23, 1936, issue of the French magazine Vu published (as did Life magazine 10 months later) what became perhaps the century's iconic photograph -- "Falling Soldier." It was taken by, and launched the remarkable career of, a 22-year-old Hungarian refugee from fascism, photographer Robert Capa.
It supposedly shows a single figure, a loyalist -- that is, anti-fascist -- soldier, at the instant of death from a bullet fired by one of Franco's soldiers. The soldier is falling backward on a hillside, arms outstretched, his rifle being flung from his right hand. This was, surely, stunning testimony to photography's consciousness-raising and history-shaping truth-telling, the camera's indisputable accuracy, its irreducibly factual rendering of reality, its refutation of epistemological pessimism about achieving certainty based on what our eyes tell us.
Probably not. A dispute that has flared intermittently for more than 30 years has been fueled afresh, and perhaps settled, by a Spanish professor who has established that the photo could not have been taken when and where it reportedly was -- Sept. 5, 1936, near Cerro Muriano. The photo was taken about 35 miles from there. The precise place has been determined by identifying the mountain range in the photo's background. The professor says there was no fighting near there at that time, and concludes that Capa staged the photo.
More
HERE
***********************
Medicalizing Mass Murder
by Charles Krauthammer
What a surprise -- that someone who shouts "Allahu Akbar" (the "God is great" jihadist battle cry) as he is shooting up a room of American soldiers might have Islamist motives. It certainly was a surprise to the mainstream media, which spent the weekend after the Fort Hood massacre downplaying Nidal Hasan's religious beliefs.
"I cringe that he's a Muslim. ... I think he's probably just a nut case," said Newsweek's Evan Thomas. Some were more adamant. Time's Joe Klein decried "odious attempts by Jewish extremists ... to argue that the massacre perpetrated by Nidal Hasan was somehow a direct consequence of his Islamic beliefs." While none could match Klein's peculiar cherchez-le-juif motif, the popular story line was of an Army psychiatrist driven over the edge by terrible stories he had heard from soldiers returning from Iraq and Afghanistan.
They suffered. He listened. He snapped. Really? What about the doctors and nurses, the counselors and physical therapists at Walter Reed Army Medical Center who every day hear and live with the pain and the suffering of returning soldiers? How many of them then picked up a gun and shot 51 innocents?
And what about civilian psychiatrists -- not the Upper West Side therapist treating Woody Allen neurotics, but the thousands of doctors working with hospitalized psychotics -- who every day hear not just tales but cries of the most excruciating anguish, of the most unimaginable torment? How many of those doctors commit mass murder? It's been decades since I practiced psychiatry. Perhaps I missed the epidemic.
But, of course, if the shooter is named Nidal Hasan, whom National Public Radio reported had been trying to proselytize doctors and patients, then something must be found. Presto! Secondary post-traumatic stress disorder, a handy invention to allow one to ignore the obvious.
And the perfect moral finesse. Medicalizing mass murder not only exonerates. It turns the murderer into a victim, indeed a sympathetic one. After all, secondary PTSD, for those who believe in it (you won't find it in DSM-IV-TR, psychiatry's Diagnostic and Statistical Manual), is known as "compassion fatigue." The poor man -- pushed over the edge by an excess of sensitivity.
Have we totally lost our moral bearings? Nidal Hasan (allegedly) cold-bloodedly killed 13 innocent people. In such cases, political correctness is not just an abomination. It's a danger, clear and present.
Consider the Army's treatment of Hasan's previous behavior. NPR's Daniel Zwerdling interviewed a Hasan colleague at Walter Reed about a hair-raising Grand Rounds that Hasan had apparently given. Grand Rounds are the most serious academic event at a teaching hospital -- attending physicians, residents and students gather for a lecture on an instructive case history or therapeutic finding.
I've been to dozens of these. In fact, I gave one myself on post-traumatic retrograde amnesia -- as you can see, these lectures are fairly technical. Not Hasan's. His was an hour-long disquisition on what he called the Koranic view of military service, jihad and war. It included an allegedly authoritative elaboration of the punishments visited upon nonbelievers -- consignment to hell, decapitation, having hot oil poured down your throat. This "really freaked a lot of doctors out," reported NPR.
Nor was this the only incident. "The psychiatrist," reported Zwerdling, "said that he was the kind of guy who the staff actually stood around in the hallway saying: Do you think he's a terrorist, or is he just weird?" Was anything done about this potential danger? Of course not. Who wants to be accused of Islamophobia and prejudice against a colleague's religion? One must not speak of such things. Not even now. Not even after we know that Hasan was in communication with a notorious Yemen-based jihad propagandist. As late as Tuesday, The New York Times was running a story on how returning soldiers at Fort Hood had a high level of violence.
What does such violence have to do with Hasan? He was not a returning soldier. And the soldiers who returned home and shot their wives or fellow soldiers didn't cry "Allahu Akbar" as they squeezed the trigger.
The delicacy about the religion in question -- condescending, politically correct and deadly -- is nothing new. A week after the first (1993) World Trade Center attack, the same New York Times ran the following front-page headline about the arrest of one Mohammed Salameh: "Jersey City Man Is Charged in Bombing of Trade Center." Ah yes, those Jersey men -- so resentful of New York, so prone to violence.
SOURCE
************************
ELSEWHERE
There is Obama toilet paper in Japan. See above
Putting terrorists on trial in NYC?
: "On Cavuto this evening, Rudy Giuliani underscored the obvious. We tried prosecuting terrorists as criminals after the first World Trade Center attack in 1993. It got us the second attack. What is it that the Obama doesn't understand about the word "war?" How can he wish to inflict this nightmare on the families of 9/11 and the City of New York? Senator Sestack on Fox this morning was absolutely pathetic, meandering on about how we need to defend our "ideals" and therefore try terrorists as though they were American citizens gone wild. No we don't. Foreigners who hate us so much they are willing to kill tens of thousands of indiscriminately at a clip need to be tried as enemies of our country not as ordinary perps. This decision coming on the heels of the collective blindness of Democrats and so-called liberals to the obvious fact that Major Hasan's atrocity was an act of war sends a message to the rest of us that is both ugly and alarming: 0ur commander in chief and his lieutenants at Justice and Homeland Security present a danger to all of us unlike any we have ever faced from domestic sources. The days ahead are uncharted and will not be pretty."
Palin retakes center stage on book tour
: "This time, she makes her public entrance as the headliner, not the pretty and vivacious warm-up act that brought bounce and backlash to the 2008 McCain presidential campaign. As Sarah Palin re-emerges onto the national stage with a new book and a tour to promote it, the polarizing one-time vice presidential candidate gets to sell her story her way. Even the book's title, "Going Rogue," suggests that after delivering messages under the careful watch of Republican handlers a year ago, she's now calling her own shots as she travels the nation to set up what some say is a certain run for the White House in 2012. Even as some on the left attack her credibility, others say that to dismiss her as a political flash in the pan would be folly. No other veep candidate in recent decades, they say, has generated such ongoing fascination. "Sarah Palin may be the one rock star that the Republican Party has for the moment," says Larry Jacobs, the director of the Center for the Study of Politics and Governance at the University of Minnesota. He cites the intense demand for her at national fundraising events as "a symbol of her potency and potential as a presidential candidate."
Breathtaking -- And Not in a Good Way
: "This report from Politico discusses President Obama's plans to theme his State of the Union address around cutting the deficit. What jumps out is the following gasp-inducing statistic: Obama has spent more money on new programs in nine months than Bill Clinton did in eight years, pushing the annual deficit to $1.4 trillion. Given this fact, the push for "fiscal responsibility" that the President is going to talk-talk-talk (and talk some more) about is a joke. Really care about not exploding the deficit? There are two easy ways to avoid it: (1) Redirect the unspent "stimulus" money to payroll tax cuts. That will have the added benefit of actually stimulating employment. (2) Call off plans to jam a mind-bogglingly expensive, freedom-stealing, unpopular health care "reform" down the American people's throats."
Irwin Stelzer: Dollar outlook isn't golden
: "Buy gold," we are told by no less an authority than G. Gordon Liddy. "It's value has never gone to zero", says an official once in charge of America's gold hoard, including the bars stored at Fort Knox. Why investors should find that reassuring is not obvious, but never mind. They have bid the price steadily up past the $1,100-per-ounce mark, from around $270 at the beginning of this decade, and about $700 when the current crisis in financial markets hit the value of stocks and property. And a very rich and very shrewd investor is telling friends that he expects the current price to more than double in the next five years. It seems that investors, or at least many of them, have decided that the Obama administration and the Bernanke Fed are combining to depreciate the dollar, the former willingly to encourage exports, the latter warily. Talk of the devaluing of other nations' paper currencies at one time produced a flight to the dollar, deemed safe from the depredations of rulers trying to shore up their struggling economies by printing money. But times have changed. There is now so little faith in the value of the dollar that investors are fleeing to Brazilian reals and Russian rubles...."
CNN's War on Lou Dobbs
: "Accuracy in Media's blogs have already acknowledged Lou Dobbs' resignation from CNN, but the story here requires a little more delving. Reading about the situation, I cannot help but remember someone else's recent resignation-which turned out to have a lot more behind it. As it turns out, leftist organizations such as the Southern Poverty Law Center (SPLC) and Media Matters have been working hard to get Dobbs off the air for months. On July 24, 2009, SPLC President Richard Cohen wrote to CNN President Jonathan Klein to complain that Dobbs was "questioning" the verity of President Obama's birth certificate and "push[ing] racist conspiracy theories [and] defamatory falsehoods about immigrants." On the other hand, Media Matters' George Soros funded the Drop Dobbs website, which since September 2009 has been featuring charming pages on Dobb's "History of Hate." This Drop Dobbs campaign has been taken up by a number of radical organizations, including the National Council of La Raza, and the Center for New Community. For those who don't know, La Raza is a far left, racist radical group."
Time to be Heard: Black Conservatives Speak Out
: "Glenn Beck's Fox show ran a kind of special today that you will not see anywhere else. In the episode, entitled "Time to be Heard", Beck and his audience presented a portrait of black conservatives in America. Watch the full episode at the link, courtesy of Fox News Channel"
Terrorists smuggle fatwas out of "secure" British prisons
: "Some of Britain's most dangerous Al-Qaeda leaders are promoting jihad from inside high-security prisons by smuggling out propaganda for the internet and finding recruits. In an authoritative report, Quilliam, a think tank funded by the Home Office, claims "mismanagement" by the Prison Service is helping AlQaeda gain recruits and risks "strengthening jihadist movements". Abu Qatada, described by MI5 as "Osama Bin Laden's right-hand man in Europe", has published fatwas — religious rulings — on the internet from Long Lartin prison, in Worcestershire, calling for holy war and the murder of moderate Muslims, it reveals."
My Twitter.com identity: jonjayray. My Facebook page is also accessible as jonjayray (In full: http://www.facebook.com/jonjayray). For more blog postings from me, see
TONGUE-TIED
,
EDUCATION WATCH INTERNATIONAL
,
GREENIE WATCH
,
POLITICAL CORRECTNESS WATCH
,
GUN WATCH
,
SOCIALIZED MEDICINE
,
FOOD & HEALTH SKEPTIC
,
AUSTRALIAN POLITICS
,
IMMIGRATION WATCH INTERNATIONAL
,
EYE ON BRITAIN
and
Paralipomena
List of backup or "mirror" sites
here
or
here
-- for readers in China or for everyone when blogspot is "down" or failing to update. Email me
here
(Hotmail address). My Home Pages are
here
or
here
or
here
****************************
The Big Lie of the late 20th century was that Nazism was Rightist. It was in fact
typical of the Leftism
of its day. It was only to the Right of Stalin's Communism. The very word "Nazi" is a German abbreviation for "National Socialist" (
Nationalsozialist
) and the full name of Hitler's political party (translated) was "The National Socialist German Workers' Party" (In German:
Nationalsozialistische Deutsche Arbeiterpartei
)
****************************