The latest "Conservatives are stupid" accusation
This is of course an old chestnut and I have myself previously reported research on it. I found that LEFTISTS were dumber. So what are we to make of the latest research report below? Not much. Following a pattern that is all too common among psychologists, the author seems never to have heard of the concept of sampling. A group of college students or even college applicants is NOT representative of the population as a whole. And young people are notoriously Left-leaning. They have so little experience that they know no better. So if Left-leaning people among a Left-leaning group are smarter, it probably just means that smarter people are better able to pick up what is required for acceptance in that group. It has no wider implications than that.
Even if the results were generalizable, however, there would still be
problems with the inferences to be drawn from them
. There is in fact some generalizable evidence on the topic drawn from general population sampling. I discuss it
here
Conservatism and cognitive ability

Lazar Stankov

Abstract

Conservatism and cognitive ability are negatively correlated. The evidence is based on 1254 community college students and 1600 foreign students seeking entry to United States' universities. At the individual level of analysis, conservatism scores correlate negatively with SAT, Vocabulary, and Analogy test scores. At the national level of analysis, conservatism scores correlate negatively with measures of education (e.g., gross enrollment at primary, secondary, and tertiary levels) and performance on mathematics and reading assessments from the PISA (Programme for International Student Assessment) project. They also correlate with components of the Failed States Index and several other measures of economic and political development of nations. Conservatism scores have higher correlations with economic and political measures than estimated IQ scores.

Source
***********************
Blokhin: History's worst mass murderer
The fact that virtually nobody in the West has heard his name speaks volumes about the domination of the media and the educational system by Leftists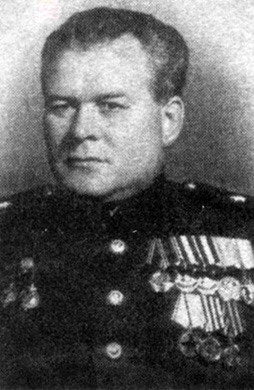 Vasili Mikhailovich Blokhin (1895 – February 1955) was a Soviet Major-General who served as the chief executioner of the Stalinist NKVD under the administrations of Genrikh Yagoda, Nikolai Yezhov and Lavrenty Beria. Hand-picked for the position by Joseph Stalin in 1926, Blokhin led a company of executioners that performed the majority of executions carried out during Stalin's reign (most during the Great Purge). Claims by the Soviet government put the number of NKVD official executions at 828,000 during Stalin's reign,[1] and Blokhin is recorded as having personally executed tens of thousands of prisoners by his own hand over a 26-year period—including 7,000 condemned Polish POWs in one protracted mass execution[1][2]—making him ostensibly the most prolific official executioner in recorded world history.[1] He was awarded both the Order of the Badge of Honor (1937) and the Order of the Red Banner (1941).
Blokhin, born into a Russian peasant family, had served in the Tsarist army of World War I, and had joined the Cheka in March 1921. Though records are slim, he was evidently noted for both his pugnaciousness and his mastery of what Stalin termed "black work"; assassinations, torture, intimidation, and execution conducted clandestinely. Once he caught Stalin's eye, he was quickly promoted and within six years was appointed the head of the purpose-created Kommandatura Branch of the Administrative Executive Department of the NKVD. This branch was a company-sized element created by Stalin specifically for "black work" missions. Headquartered at the Lubyanka in Moscow, they were all approved by Stalin and took their orders directly from his hand, a fact that ensured the unit's longevity despite three bloody purges of the NKVD. As senior executioner,[4] Blokhin's official title was that of Commandant of the internal prison at the Lubyanka, which allowed him to perform his true job with a minimum of scrutiny and no official paperwork.
Although most common executions were delegated to local Chekists or subordinate executioners from his unit, Blokhin personally performed all of the high-profile executions conducted in the Soviet Union during his tenure, including those of the Old Bolsheviks condemned at the Moscow Show Trials and two of the three fallen NKVD Chiefs (Yagoda in 1938 and Yezhov in 1940) he had once served under.[5] He was awarded the Badge of Honor for his service in 1937.[6]
Blokhin's most notable performance was the April 1940 mass execution by shooting of 7,000 Polish officers, captured following the Soviet invasion of Poland, from the Ostashkov POW camp, during the Katyn massacre.[7] Based on the 4 April secret order from Stalin to NKVD Chief Lavrenti Beria (as well as NKVD Order № 00485, which still applied), the executions were carried out in 28 consecutive nights at the specially-constructed basement execution chamber at the NKVD headquarters in Kalinin (now Tver), and were assigned, by name, directly to Blokhin, making him the official executioner of the NKVD.[8]
Blokhin initially decided on an ambitious quota of 300 executions per night, and engineered an efficient system in which the prisoners were individually led to a small antechamber—which had been painted red and was known as the "Leninist room"—for a brief and cursory positive identification, before being handcuffed and led into the execution room next door. The room was specially designed with padded walls for soundproofing, a sloping concrete floor with a drain and hose, and a log wall for the prisoners to stand against. Blokhin—outfitted in a leather butcher's apron, cap, and shoulder-length gloves to protect his uniform[9]—then pushed the prisoner against the log wall and shot him once in the base of the skull with a German Walther Model 2 .25 ACP pistol.[10] He had brought a briefcase full of his own Walther pistols, since he did not trust the reliability of the standard-issue Soviet TT-30 for the frequent, heavy use he intended.[9][11] The use of a German pocket pistol, which was commonly carried by Nazi intelligence agents, also provided plausible deniability of the executions if the bodies were discovered later.
Between 20 to 30 local NKVD agents, guards and drivers were pressed into service to escort prisoners to the basement, confirm identification, then remove the bodies and hose down the blood after each execution. Although some of the executions were carried out by Senior Lieutenant of State Security Andrei M. Rubanov, Blokhin was the primary executioner and, true to his reputation, liked to work continuously and rapidly without interruption.[9] In keeping with NKVD policy and the overall "black" nature of the operation, the executions were conducted at night, starting at dark and continuing until just prior to dawn. The initial quota of 300 was lowered by Blokhin to 250 after the first night, when it was decided that all further executions should take place in total darkness.[5] The bodies were continuously loaded onto covered flat-bed trucks through a back door in the execution chamber and trucked, twice a night, to Mednoye, where Blokhin had arranged for a bulldozer and two NKVD drivers to dispose of bodies at an unfenced site. Each night, 24 to 25 trenches, measuring eight to ten meters total, were dug to hold the night's corpses, and each trench was covered up before dawn.[12] Blokhin and his team worked without pause for ten hours each night, with Blokhin executing an average of one prisoner every three minutes.[2] At the end of the night, Blokhin provided vodka to all his men.[13]
On 27 April 1940, Blokhin secretly received the Order of the Red Banner and a modest monthly pay premium as a reward from Joseph Stalin for his "skill and organization in the effective carrying out of special tasks".[14][15] His count of 7,000 shot in 28 days remains one of the most organized and protracted mass murders by a single individual on record.[6]
Blokhin was forcibly retired following Stalin's death, although his "irreproachable service" was publicly noted by Lavrenty Beria at the time of his departure.[6] After Beria's fall from power (June 1953), Blokhin's rank was eventually stripped from him in the de-Stalinization campaigns of Nikita Khrushchev. He reportedly sunk into alcoholism, went insane, and died in February 1955 with the official cause of death listed as "suicide".[7]
SOURCE
**************************
Are politicians today as wise as those who produced the U.S. Constitution?
Suppose we rephrase our debate topic: "Are today's [select a field of endeavor or expertise] as wise as their counterparts in 1787?" The indisputable answer for a long, long list of professions would be, "You must be joking." The eighteenth century's doctors, scientists, and engineers had more in common with practitioners from thousands of years ago, who relied on primitive superstitions, than they do with their counterparts today, who are highly specialized, dauntingly well informed, and expert in the use of rigorous methodologies for rejecting false hypotheses and second-best practices.
The default assumption, then, is that there is no reason to believe the steady and often startling advances in our understanding and capabilities apply to science or medicine but not to politics. None of us would hire George Washington's dentist. Why, then, should we shrink from rewriting his Constitution in light of everything we have learned in the past 222 years?
Remember, though, that the story of progress is the story of trial and error. Progress will often require modifying or discarding old ideas, but not because they are old. New ideas are better ones only if they do a better job of explaining the world or improving the circumstances in which we live. The ones that fail those tests need to be set aside, not embraced simply because they were coined more recently.
What sets the politicians of 2009 apart from the ones of 1787 is the pervasive modern denial that human nature is something we can understand and a basis on which we can found a political order. The Americans who wrote and ratified the Constitution believed in certain truths about human nature. These included our fundamental equality, the securing of our inalienable rights as the government's raison d'ˆtre, and the need to channel the natural selfishness that engenders factionalism through a constitutional mechanism that protects individual rights and promotes the public good.
The modern belief, instead, is that what matters is human history, not human nature, our evolution rather than our essence. As the historian Richard Hofstadter wrote in 1948, "[No] man who is as well abreast of modern science as the [Founding] Fathers were of eighteenth-century science believes any longer in unchanging human nature." Having discarded the concept of human nature as a fixed star by which to navigate, modern political actors and thinkers can only fall back on "the evolving standards of decency that mark the progress of a maturing society," as the Supreme Court said in 1958.
If a politics based on human history makes more sense and produces better outcomes than one based on human nature, then modern politicians deserve to be considered wiser than the authors of the Constitution. But only if. There are two problems with the politics of the evolving standards of decency. First, time and reflection show that some standards embraced with confidence turn out to be shockingly indecent. One hundred years ago, for example, many of the practitioners of the politics of progress were also enthusiastic supporters of the eugenics movement, which resulted in policies of compulsory sterilization and the explicit denial of rights based on racial categorization. The day may come when the standards of our own age, which treat abortion as the legal and moral equivalent of an appendectomy, are also regarded with incomprehension and disgust.
Second, apart from the bland and baseless confidence that our standards can only grow more decent and mature, is the hopeless circularity of appealing to the more enlightened standards just over the horizon to settle today's political arguments. C. S. Lewis wrote that those who frame political and moral dilemmas by asking whether a particular course is consistent with history's direction ask questions that are "of course, unanswerable; for they do not know the future, and what the future will be depends very largely on just those choices which they now invoke the future to help them make."
In 1885, when he was a prodigious young scholar, Woodrow Wilson wrote that we must replace "blind worship" with "fearless criticism" of the Constitution. It's good advice, but not because the Constitution is especially deserving of skeptical inspection. The point, rather, is that our wisdom and welfare are always better served by approaching ideas and institutions with fearless criticism rather than blind worship.
Fearless criticism of the long-standing project to supplant politics based on human nature with politics that tracks and keeps a step ahead of human history will show that disdaining the truths self-evident to America's founders has rendered us less wise, less happy, and our experiment in self-government less secure. C. S. Lewis stated the question simply but powerfully in Mere Christianity: "Progress means getting nearer to the place where you want to be. And if you have taken a wrong turning, then to go forward does not get you any nearer. If you are on the wrong road, progress means doing an about-turn and walking back to the right road; and in that case, the man who turns back soonest is the most progressive man."
SOURCE
********************
ObamaCare Supporter Punches Man, 67, Over Sign He Carried at Anti-Socialism Rally Near St. Louis
A 67-year-old St. Charles County man taking part in an anti-socialism rally was punched in the face by an ObamaCare supporter who took offense at the sign he was carrying during a rally at the intersection of Highways K and N in O'Fallon, Mo., 30 miles west of St. Louis on I-70.
The altercation took place at approximately 1:45 p.m. Central and involved a liberal 60-something, red-headed female who, according to Jay Harris, the conservative 67-year-old male involved, struck him with her fist after she became enraged over the sign he was carrying. It's message, "Forget the Tea Party, Get the Tar and Feathers," alluded to the feelings many conservatives hold about many members of the Obama Administration and Congress. It's also historic in that the practice of tarring and feathering people — including crooked politicians — dates back more than 200 years.
Apparently not a student of history, however, Harris' female attacker interpreted the sign as being directed at her and the three-dozen other public option supporters who marched across the street from some 200 people opposed to ObamaCare, bailouts and other un-Constitutional approaches to governance by liberals now in the White House and on Capitol Hill. After the woman punched Harris, he said he instinctively grabbed her and pulled her to the ground so as to keep from being struck again.
As soon as an O'Fallon police officer arrived at the scene, the pro-ObamaCare protesters — mostly union members — began hurling accusations and calling names at conservative ralliers. A court date has been set for Dec. 7 in the O'Fallon Municipal Court.
More
here
***********************
Job One is to Tell the Whole Jobs Story
Whenever government throws billions of dollars at the economy, one would certainly expect to find some jobs at the end of those dollars. President Obama has worked hard to convince the nation that the mega fiscal stimulus he signed into law produced some 650,000 jobs. This PR blitz is amazing in the face of an economy that has shed 3.4 million jobs since Obama was sworn in, the unemployment rate is pressing toward 10 percent, and the Obama jobs gap – the gap between where he promised we would be and actual employment — rises monthly.
Political chutzpah aside, the numbers Obama is tossing around are grossly misleading. The problem is not the calculation itself. This is a political guesstimate and no doubt the duly tasked bean counters are doing their level best to count every last bean job. For that matter, the problem is not government inefficiency and waste. That was assumed from the outset, so it should not surprise anyone that according to the government's own data some $173 billion has been spent thus far and all they can point to is a relative handful of jobs. The problem is the Obama figure only tells half the story.
The Obama jobs figure is a guesstimate of the number of jobs created from the spending. It is analogous to the gross income a company earns on sales. But what matters, of course, is net income, on in this case, net jobs, and that requires an estimate of the net cost.
The net cost in this case derives from the simple fact that the federal government is borrowing money to spend money. Government borrowing subtracts purchasing power from the economy just as government spending adds it back in. Absent the government borrowing and spending, consumers and businesses would have borrowed the funds and spent the funds. The same mechanisms that supposedly created the jobs from the government spending would have created jobs from private spending.
At best, the jobs created and destroyed are a wash. Of course, the jobs that are destroyed are scattered across the economy and across the country and cannot be identified specifically, though wouldn't that be interesting. Imagine the pictures and story of the worker who lost a job because government borrowed money. However, the destruction of those jobs by borrowing is every bit as certain as the creation of jobs by deficit spending.
It is possible to calculate with fair precision the net jobs created by Obama's attempt at fiscal alchemy. Adding jobs gained to jobs lost produces a big fat squadoosh, nada, zippo, zero. It's also possible to show the increase in the national debt that produced this outstanding government policy result – by last count it was $173 billion.
SOURCE
My Twitter.com identity: jonjayray. My Facebook page is also accessible as jonjayray (In full: http://www.facebook.com/jonjayray). For more blog postings from me, see
TONGUE-TIED
,
EDUCATION WATCH INTERNATIONAL
,
GREENIE WATCH
,
POLITICAL CORRECTNESS WATCH
,
GUN WATCH
,
SOCIALIZED MEDICINE
,
FOOD & HEALTH SKEPTIC
,
AUSTRALIAN POLITICS
,
IMMIGRATION WATCH INTERNATIONAL
,
EYE ON BRITAIN
and
Paralipomena
List of backup or "mirror" sites
here
or
here
-- for readers in China or for everyone when blogspot is "down" or failing to update. Email me
here
(Hotmail address). My Home Pages are
here
or
here
or
here
****************************
The Big Lie of the late 20th century was that Nazism was Rightist. It was in fact
typical of the Leftism
of its day. It was only to the Right of Stalin's Communism. The very word "Nazi" is a German abbreviation for "National Socialist" (
Nationalsozialist
) and the full name of Hitler's political party (translated) was "The National Socialist German Workers' Party" (In German:
Nationalsozialistische Deutsche Arbeiterpartei
)
****************************